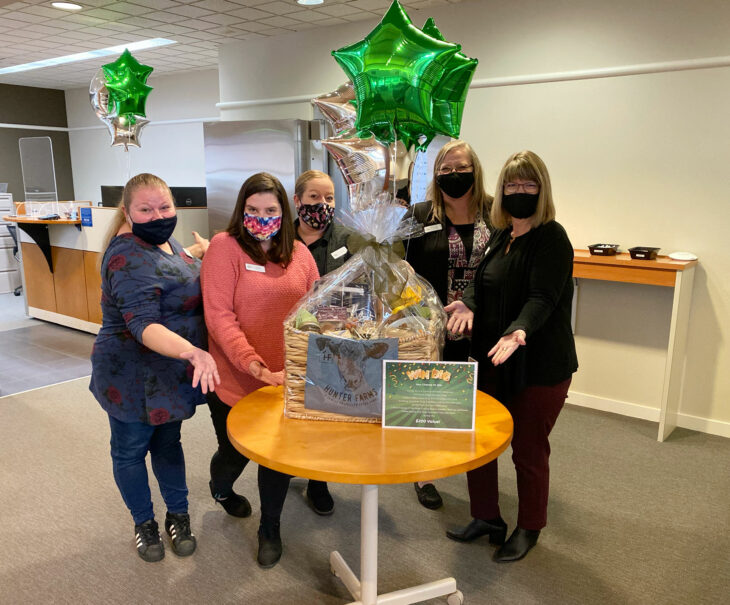 Thank you for being a member of Peninsula Credit Union! To say thanks, during the week of October 18 – 22 we've put together some special perks, just for you! Treats, giveaways and special offers for all our members.
On top of the goodies and promos, each branch will have a special, locally-sourced prize basket that we'll be raffling off. One lucky member will win at each branch, and four runner-up winners at each branch will also receive a special prize!
Not a member? Join Today and learn why so many recommend us to their friends and family — and enjoy the fun! Visit your nearest branch or call us at 800-426-1601.
International Credit Union Day

This year for Member Appreciation Days, we celebrate the World Council of Credit Union's International Credit Union Day, with the theme "Building Financial Health for a Brighter Tomorrow." International Credit Union Day is Thursday, October 21.
International Credit Union (ICU) Day celebrates the spirit of the global credit union movement. The day is recognized to reflect upon the credit union movement's history, promote its achievements, recognize hard work and share member experiences. ICU Day has been celebrated on the third Thursday of October since 1948.
The ultimate goal is to raise awareness about the tremendous work that credit unions and other financial cooperatives are doing around the world and give members the opportunity to get more engaged. For our members, we also extend special celebrations, giveaways and offers.
Saying "Thank You" to Our Members!
PRODUCT / SERVICE

PROMOTION

EFFECTIVE DATES

Enhance Your "Digital Wallet"

Download our mobile app, enroll in free online services like Credit Sense or Trends, or set up your PCU debit or credit card with Apple Pay.

Earn an extra ticket into our prize drawing! (One extra ticket per day.)

Oct 18 - 22

Shop & Win

Use your PCU debit or credit card and be entered to win. Prize amount will be a matching dollar amount of one transaction up to $50.1

5 daily winners!

Oct 18 - 22

Make Mortgaging Easier

Apply for a home loan or refinance and we'll waive the origination fee.2

Oct 18 - 22

Save to Win

Open a Save to Win account and we'll deposit the first $25.

Valid on new accounts only.

Oct 18 - 22

Open Road, Big Savings

Refinance your auto loan and receive 2% cash back (up to $500) with no payments for 120 days.3

Oct 18 - 22

Use your debt/credit card and receive up to $50 cash back with five daily winners.  Prize amount will match the winning transaction drawn up to $50. Cash back applies to purchase transactions October 18, 2021 through October 22, 2021.  Prize amount will match the winning transaction amount selected up to $50.  Five winners will be determined by random drawing from all eligible entries each day.  Winners will have funds deposited to their Peninsula savings account.
Standard origination fee (which ranges between 1% – 2% of loan amount depending on mortgage product) will be waived.  Applies to existing home purchase, refinance, or construction transactions only.  Minimum $100,000 loan amount.  Underwriting approval required.  Applicable on loan applications received between October 18, 2021 and October 22, 2021, and must fund no later than 120 days from date of application.  Does not include equity loans (line of credit).  Other restrictions may apply.
All loans are subject to Peninsula Credit Union lending policies and loan-to-value guidelines. Your rate and term will be determined by individual creditworthiness including income, debt-to-income ratio, employment and credit history. Verification of employment may be required. If you postpone your payment, finance charges will still accrue on your loan balance during the payment deferral period. This offer is not valid to refinance existing Peninsula Credit Union loans. If you participate in this offer: 1) you may receive Form 1099-MISC at year end; 2) the 2% cash back award will be forfeited and added to the payoff amount, if the loan is closed within 12 months of loan funding. Rates, terms, and offer are subject to change at any time. Membership with a savings account at Peninsula Credit Union is required to participate in the offer.