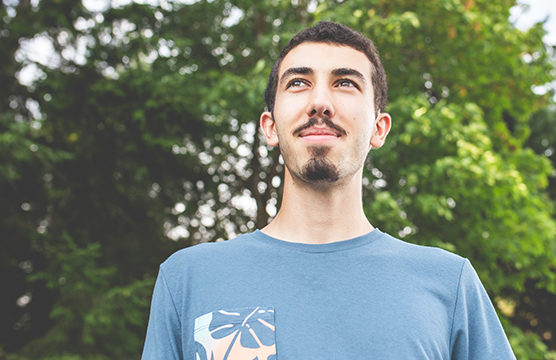 Banking Services
Helpful features to help you move, give and receive money, quickly and seamlessly.

LOGIN TO ONLINE BANKING
From receiving your paycheck seamlessly into your account, to paying your friend back for last week's pizza, to putting a down payment down on a house, we want it to be easy for you to move, give and receive money.
Peninsula offers the following banking services:
Direct Deposit
Get your paychecks, or other recurring payments deposited directly into your account. It's free, safe, easy and green.
Paypal Person-to-Person Payments
Send money instantly and securely to family, friends, and small businesses, using their email or phone number.
Wire Transfers
A secure way to move funds quickly between people and businesses, in the U.S. and internationally.
Pay Loans Now
Pay your Peninsula loan payments online with your debit card or checking account from any financial institution.
Make deposits simpler with Direct Deposit.
Direct Deposit makes it easy to receive your paychecks directly into your Peninsula checking account. Income from your employer, Social Security, pension and retirement plans, the military, VA benefits, and dividend or annuity payments may be electronically deposited into your account using Direct Deposit.
Setting up direct deposit with your employer or whoever you're receiving checks from is quite easy—you simply need to provide them with a few pieces of key information:
Peninsula Credit Union Routing number: 325182344
Your 12 digit checking account number that starts with 7890.
If you have a paper check handy, you can easily find the routing number and checking account number in the lower left hand corner. Please use all 12 digits of your account number when setting up the transaction. Note that your member number is not the same as your checking account number, and isn't used when setting up direct deposit.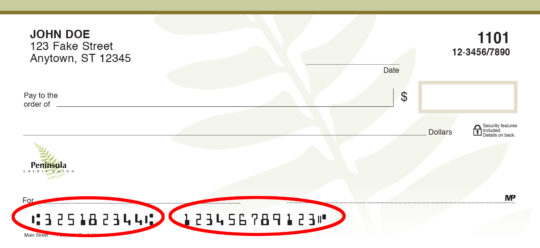 Incoming Wire Instructions:
Receiving Financial Institution: 
Catalyst Corporate Federal Credit Union
6801 Parkwood Boulevard
Plano, TX 75024
ABA# 311990511
Further Credit to: 
Peninsula Credit Union
ABA / Account# 325182344
Final Credit to: 
Member's name and account number at Peninsula Credit Union.
Outgoing Wires:
To initiate an outgoing wire request, please visit your local branch.
Processing Time:
Wires are transmitted Monday-Friday, with the exception of holidays. For a wire transfer to be processed the same business day, the wire must be received by the Credit Union before the following cut off times:
Domestic Wires – 1:00pm Pacific Time
International Wires – 11:30am Pacific Time
Wire requests received after these cut off times will be processed the next business day.
Fees apply to both incoming and outgoing wires, click here to see our current fee schedule.
Send money fast with PayPal Person-to-Person payments.
This feature, available on our Peninsula Credit Union mobile banking app, makes sending money to family, friends or small businesses as easy and fast as sending a text.
Simply launch our mobile app, login and click "Send money." Provide the recipient's name and email or phone number, then select an account to transfer from and the amount you'd like to send. The money will be taken from your Peninsula account, and Paypal will notify the recipient that their money is ready and available. It's as easy as that.
Pay your Peninsula loan payments online with your debit card or checking account from any financial institution.
To begin:
Click on the Pay Now button below to begin.
Select "Express Payment" for one time use.

Follow any helpful instructions displayed on the login page for entering your Peninsula Credit Union loan account number.

Select your preferred payment method, and type your checking/savings account information.
Enter the payment amount you wish to make (or the amount due as shown), and select the payment frequency.
Review your loan payment request, and be sure to read the terms and conditions prior to submitting your payment.
After submitting your payment, you will receive an immediate confirmation.

If you chose to register, all registration and payment information is securely retained. It is not necessary to re-enter it upon future visits. Simply log in with your loan account number and password!
Mail Payment
Make check payable to Peninsula Credit Union
Write the loan number on the check and include a Loan Payment Coupon.
Mail payment to:
Peninsula Credit Union
PO Box 2150
Shelton, WA 98584
If you are paying your payment from another financial institution you can set up an automatic transfer, or what we call an ACH.
Fill out and sign the ACH authorization form and mail to:
Peninsula Credit Union
PO Box 2150
Shelton, WA 98584
---
Have questions about our banking services?